En plus de l'importante donation de l'appartement privé de Jeanne Lanvin par le prince Louis de Polignac en 1965, le musée des Arts décoratifs conserve d'autres œuvres d'Armand-Albert Rateau.
Après l'exposition de 1925, un des lustres du pavillon de l'Élégance est acquis par le musée auprès de la maison Baguès frères, collaborateurs de Rateau pour la réalisation de ses objets en bronze.
En 1937, à la suite de l'exposition « Le Décor de la vie de 1900 à 1925 » organisée par le musée, le décorateur, qui présente alors huit meubles, en donne deux au musée. Provenant de son appartement 17 quai de Conti à Paris, les modèles ont été créés pour George et Florence Blumenthal, ses premiers clients : une table à thé à deux plateaux dont un modèle similaire appartenait également à Jeanne Lanvin ; un fauteuil dont le modèle fut créé en 1919 pour leur piscine à New-York.
Armchair

ARMAND-ALBERT RATEAU (1882-1938), decorator
BAGUES FRERES, founder
Paris, circa 1919
cast bronze with antique green patina
cushion in ocelot fur
donation ARMAND-ALBERT RATEAU, 1937

This model was created in 1919 for the swimming pool of George and Florence Blumenthal in New York

inv. 33765
Project for an armchair

ARMAND-ALBERT RATEAU (1882-1938)
PAUL PLUMET
Paris, circa 1919
black ink wash on tracing paper
donation FRANCOIS RATEAU, 1995

inv. 995.129.1.1
Tea table

ARMAND-ALBERT RATEAU (1882-1938), decorator
BAGUES FRERES, founder
Paris, circa 1924
cast bronze with antique green patina, mirror and glass
donation ARMAND-ALBERT RATEAU, 1937

The Blumenthal couple owned an identical model.

inv. 33764
En 1947, une autre donation vient enrichir cet ensemble exceptionnel. L'épouse de Rateau donne le paravent à six feuilles « Course dans la forêt ». Initialement composé de huit feuilles, ce paravent en laque, dessiné vers 1925, formait le fond de la salle à manger de l'appartement de l'artiste, quai de Conti, masquant le départ de l'escalier et d'une fenêtre.
Details from the screen with six panels, Race in the forest

ARMAND-ALBERT RATEAU (1882-1938)
Paris, circa 1925 (date of the creation of the model), circa 1930 (date of production)
Lacquer, warm brown intaglio and raised decoration , wrought iron frame
donation THERESE RATEAU, 1947

inv. 35842
Photograpgh of Albert-Armand Rateau's dining room, 17 Quai de Conti in Paris, beginning of the 1930's.
The long table with its black and white marble top is identical to the one in the dining room of Jeanne Lanvin.

Rateau Family Collection
Cette collection est complétée en 1995 par une donation de 56 dessins par François Rateau, fils de l'artiste. Exécutés pour la plupart en collaboration avec son assistant, le sculpteur Paul Plumet, ils permettent d'appréhender le processus de création de l'artiste et d'illustrer son parcours, du dessin de la péniche « Nomade » qu'il achète à Paul Poiret en 1913 aux prestigieuses commandes qu'il conçoit de 1920 à 1938, date de son décès.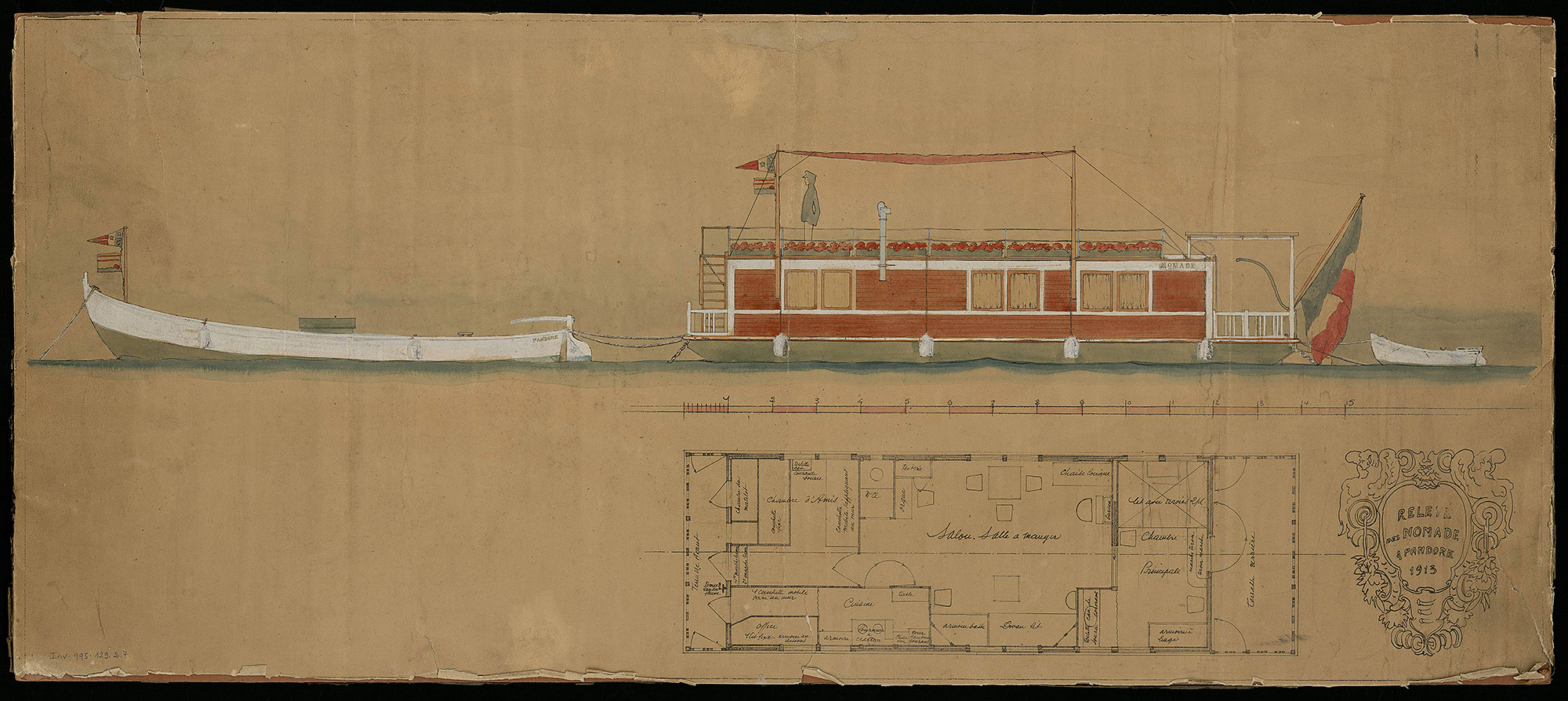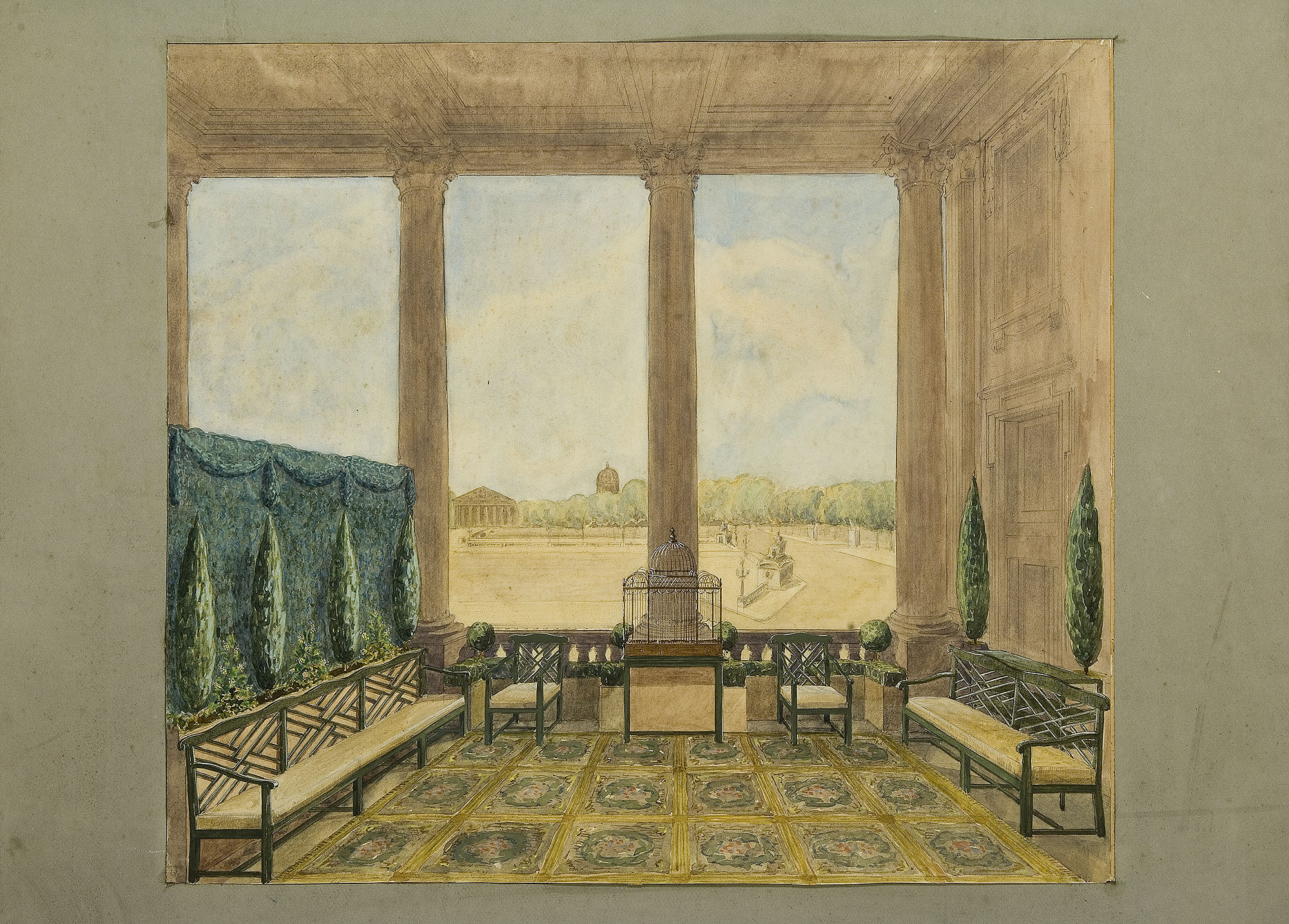 Project for lacquered panels for the bathroom of Lady and Sir Pomery-Burton at the Château de La Croë

ARMAND-ALBERT RATEAU (1882-1938)
Paris, circa 1929
Graphite, coloured pencil, gouache, silver highlights on tracing paper
donation FRANCOIS RATEAU, 1995

inv. 995.129.2.1 à 995.129.2.3
Project for lacquered panels for the bathroom of Lady and Sir Pomery-Burton at the Château de La Croë

ARMAND-ALBERT RATEAU (1882-1938)
Paris, circa 1929
Graphite, coloured pencil, gouache, silver highlights on tracing paper
donation FRANCOIS RATEAU, 1995

inv. 995.129.2.4 et 995.129.2.5