Armchairs
This pair of cabriolet chairs illustrates all the characteristics of the Louis XVI style. The tapering, fluted legs are completely straight with small, olive-shaped feet. The trapezoidal seat rim is slightly curved at the front. The armrest supports rise directly from the cubic intersection of the front leg and seat rim. The armrest itself follows the curve of the seat rim and the back is medallion-shaped. The harmonious construction is enhanced by sober sculptural decoration, composed of classical motifs such as friezes of waterleaves and beading.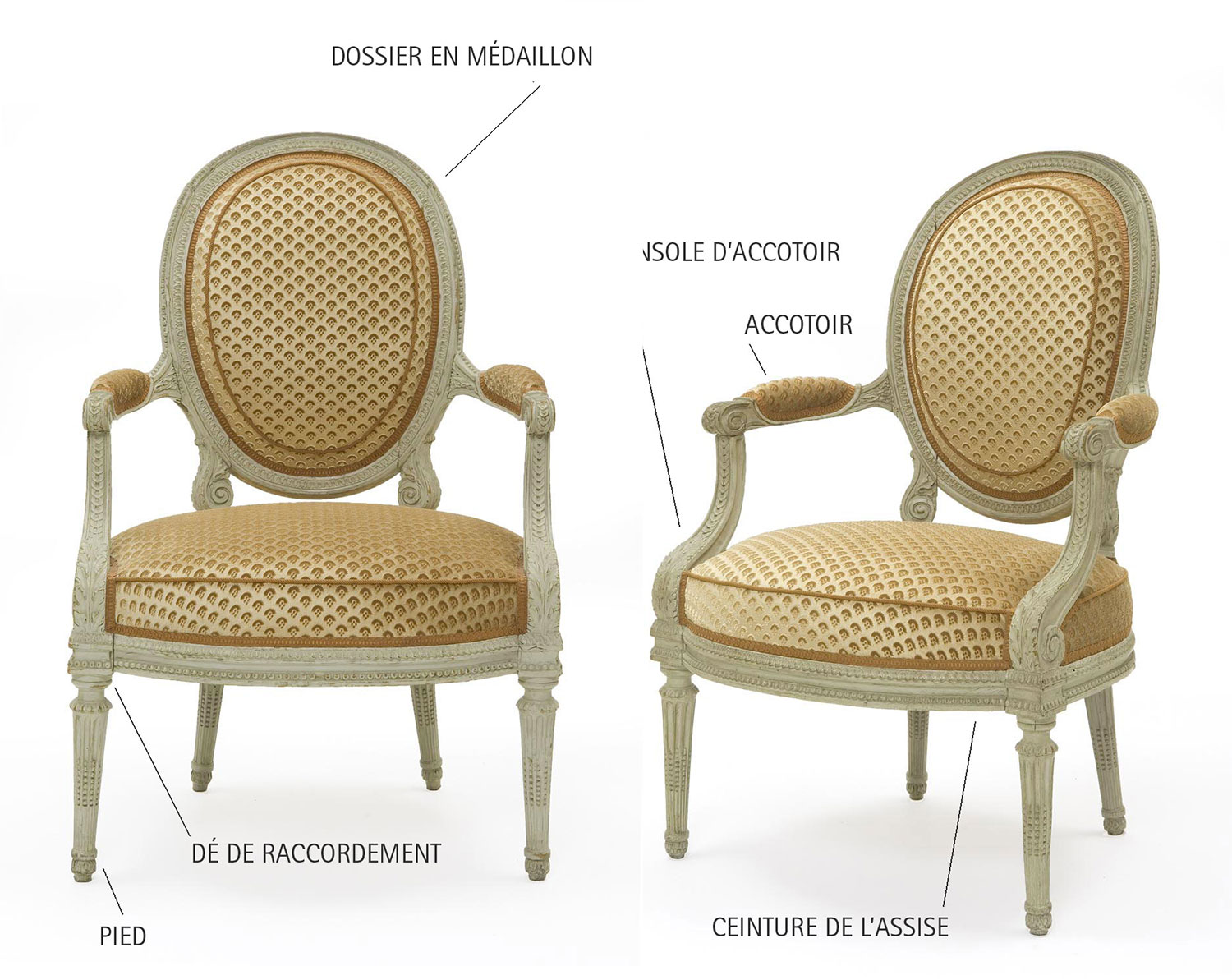 Pedestal table
This type of pedestal table is an example of the fashion for Antiquity in the late 18th century. Its elegant tripod base consists of three brass rods with volutes at the top and delicate lion's paws on castors at the base. The volutes, lion's paws and metallic base evoke Antiquity but the castors are a practical feature. This type of all-purpose table was extremely popular and continued to be made throughout the 19th century.
Pedestal table

France, circa 1790-1795
Mahogany, amaranth, gilt bronze
JOSEPH DUPRÉ bequest, 1913

inv. 19088
Furniture and objects of taste, page 18

published by Pierre de La Mésengère
Engraving with coloured line
En cabinet writing desk
The form of this elegant en cabinet writing desk was inherited from the 17th-century cabinet with legs. It consists of a drop-leaf cabinet with corner shelves, supported by four slender legs joined by a tablet. Its harmonious forms are enhanced by the mahogany veneer and gilt bronze decoration. Its creator, the cabinetmaker Joseph Stöckel, was found of incorporating ingenious fittings, surprises and hiding places into his furniture: three drawers are concealed in the upper rim. The interior is more classically fitted with compartments and drawers. This type of cabinet was very fashionable in the late 18th century.