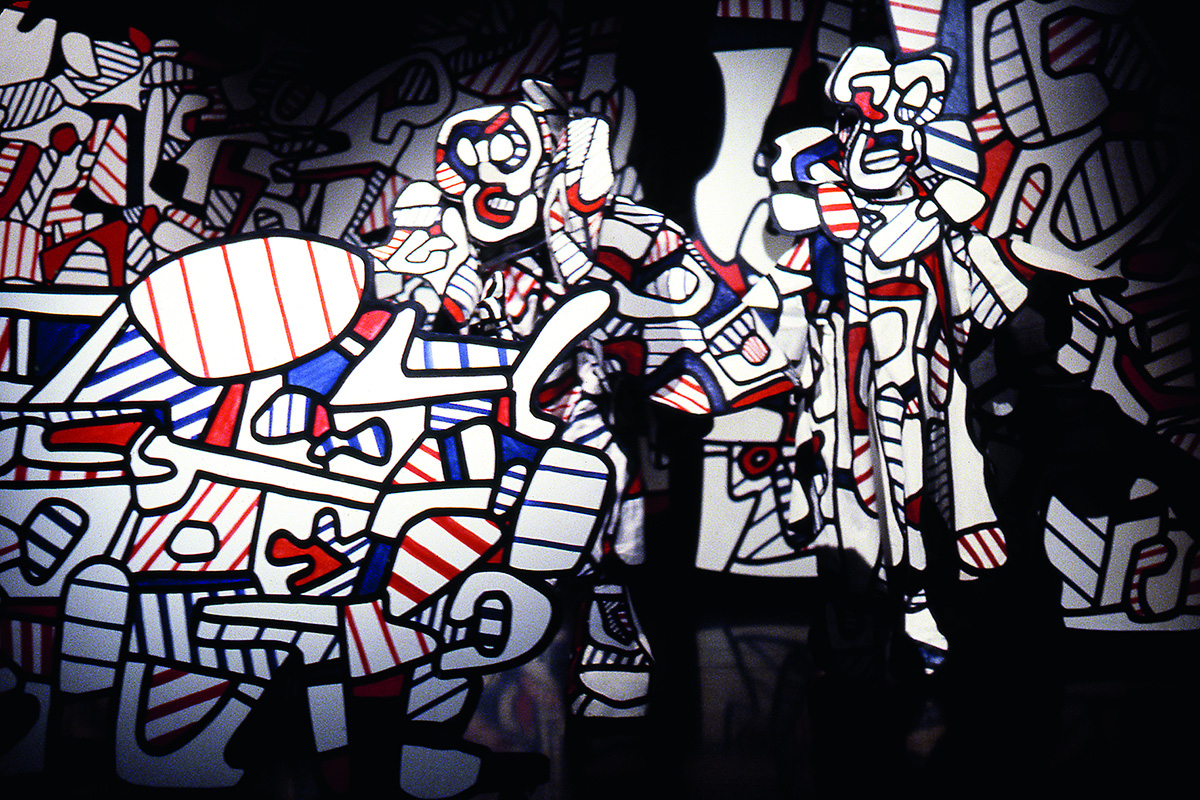 Coucou Bazar, subtitled Bal de L'Hourloupe or Bal des Leurres, is one of the most original creations of Jean Dubuffet and the climax of his cycle L'Hourloupe. In this performance, defined as an "animated picture", composed of practicables – painted mobile cutouts – and of costumes worn by dancers, Dubuffet managed in a way to combine painting, sculpture, sound and movement.
The elements of the performance – practicable and costumes-move around extremely slowly, preferably frontally, creating a series of animated combinations whose different parts begin to move, disappear and appear. The result is a sort of confusion between static elements and animated elements.
Jean Dubuffet coiffant Nini la Minaude durant les répétitions du spectacle au Guggenheim, New York, 1973

© photo Robert E.Mates & Susan Lazarus
Costume Nini la Minaude, 1973

costume pour le spectacle Coucou Bazar
technique mixte
H. 275 x L. 100 x P. 70 cm
Coll. Fondation Dubuffet, Paris

© photo Fondation Dubuffet
Coucou Bazar was presented for the first time at the Solomon R. Guggenheim Museum in New York in the spring of 1973, then in the Grand Palais in Paris in the autumn of the same year. A third version was produced several years later in 1978 in Turin, thanks to FIAT.
The elements of the performance, practicable and costumes, which can usually be seen at the Fondation Dubuffet in Périgny-sur-Yerres, were on display exceptionally in the great nave of the Museum of decorative Arts, Paris, from the 24th October to the 1st December 2013.